The beginning of his work was marked by the exploration of ballets and continued with operas full of dissonant tensions and unusual combinations of instruments. His compositions are harmonically and melodically clear, often with a constant flow of rhythm. By avoiding the solo cadence, he implements the idea of an artist as primarily a part of the concert ensemble. Diaghilev's great friend and "the best Russian composer of that time, after Stravinsky", of course.
Sergey Prokofiev (1891 – 1953) received his first piano lessons from his mother. At the age of 13, he went to St. Petersburg to study composition, piano, and conducting at the St. Petersburg Conservatory. In 1912, Prokofiev wrote the First Piano Concerto, for which he received the Anton Rubinstein Prize.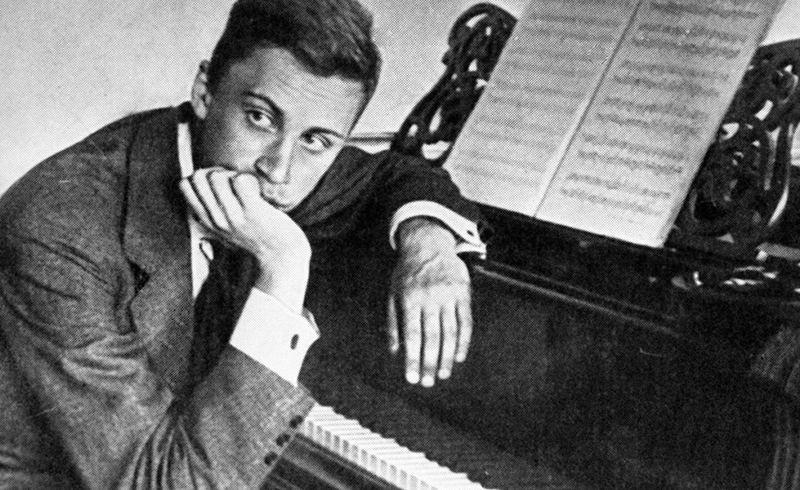 most of his student colleagues considered him as an eccentric and arrogant person
After graduating from the Conservatory, Prokofiev went to London where he got to know the ballets The Firebird, Petrushka, and Daphnis et Chloé, and began a long-term collaboration with Diaghilev, director of Russian Ballet. Influenced by the ballets of Stravinsky and Ravel, he composed pieces spiked with vicious humour and sharp grotesque.
Prokofiev, a passionate chess player, defeated Ravel in a chess game

https://www.chessgames.com/perl/chessgame?gid=1579921
In the year before the Revolution in Russia, one of his most famous works, influenced by the works of Haydn, was written, the Classical Symphony. Prokofiev said that Mozart would have probably composed it similarly if he had lived in his time and had kept his way of musical thinking.
Mozart and Prokofiev composed their first pieces at the age of five
In 1918 he went to New York, where he met a young singer, Lina Llubera, who became his first wife. For many years they stayed in Paris, where he was in close contact with Francis Poulenc and Arthur Honegger. Later, he left his wife and sons for the poet Mira Mendelssohn.
Robert Schumann, Alexander Scriabin, Paul Cézanne, Pablo Picasso – Prokofiev's great role models
In 1932, "the prodigal son" returned to his homeland and earlier works. We consider the ballet Romeo and Juliet a masterpiece because of its extraordinary simplicity. On his last trip abroad, Prokofiev visited Hollywood, where he worked with Sergey Eisenstein on the music for Eisenstein's film Alexander Nevsky.
Prokofiev's music has been used in 164 films and TV shows
At the time of World War II, he composed the ballet Cinderella. The ballet wasn't seen as politically incorrect because it was related to Tchaikovsky's Sleeping Beauty. Overwork was fatal to the composer's health, as well as censorship by the Communist Party because of "formalism". The lyrical Symphony No. 7 was the composer's swan song. He died unnoticed on the day Stalin's death was announced.
classical, inventive, toccata, lyrical and humorous – Prokofiev on the characteristics of his own works
---
sonata
During the summer of 1943, Sergey Prokofiev escaped the war-torn Eastern Front and went to the Central Asian city of Almaty, where he worked on the film score for Eisenstein's Ivan the Terrible. In the middle of this massive project, Prokofiev found himself drawn to something he described as a "sonata in a gentle, flowing classical style." Sonata for flute and piano in D major, op. 94 was composed and first performed in 1943. After the world premiere in Moscow, the violin version was created in collaboration with the violinist David Oistrach. It is called the Second Sonata for violin, with the unchanged piano part from his Sonata for flute and piano in D major. There are four movements: Moderato, Allegro scherzando, Andante, and Allegro con brio.
moderato
Prokofiev uses a strictly melodic sonata form with two themes. The expansive first theme gives us a sense of shimmering classicism. It is as if we are hearing a Handel or Mozart sonata through twentieth-century ears. The tendency to build thematic periods on two very distant tonalities, with sudden modulation or without any modulation, is evident in the second theme. You can perceive that as sudden harmonic turns or, as some would say change of colours. As the movement unfolds, what might have been an open and bright D major, is constantly re-examined and changed, leading to beautiful bridges, with a return to the original tonality. Sudden changes are also manifested in the contrasts of the characters, e.g. when the flute brings a distinctly rhythmic and toccata motif suddenly after a lyric theme. Throughout the movement, there is an exchange of motifs between the flute and the piano, which culminates in common virtuoso passages before returning to the beginning, i.e. recapitulation. Prokofiev creates special sonic atmospheres in a few moments; transition to the recapitulation, a parallel melody in three different registers, and at the very end, the first theme in the highest register and the quietest dynamics.
our tips
To make the experience of playing and working on this piece easier for the future performers, we thought it would be a good idea to share with you some things that need special attention. It is important to return to the already mentioned constant flow and perpetuum mobile, which Prokofiev often uses, and because of which there is very little room for rest in this movement. Sudden changes in character and dynamics are present in both parts, which requires quick adjustment. When playing the flute, one should give special attention to melodies of delicate tone and quiet dynamics in the high registers. When playing the piano, extreme rhythmicity should be taken into account, also in quiet dynamics. In the low register, the flutist should pay special attention to the staccato way of performing, and the pianist must be careful not to overlap the motifs from the flute section. Special technical readiness is expected in the coda, and the piano section may seem light in places because the same material appears in both hands, but soon the most varied jumps and technical requirements are introduced.
We consider the most important thing to be the cooperation of two performers in presenting common motifs, the so-called conversations, imitations, joint music making and feeling the pulse in metronomically unstable places like transitions, i.e. bridges.
coda
Thank you for reading this post to the end. We hope that you have enjoyed listening to Prokofofiev's Sonata and getting to know this work from a different perspective!
We would like to get feedback from you and learn more about your exploring and understanding of Prokofiev's music.
---